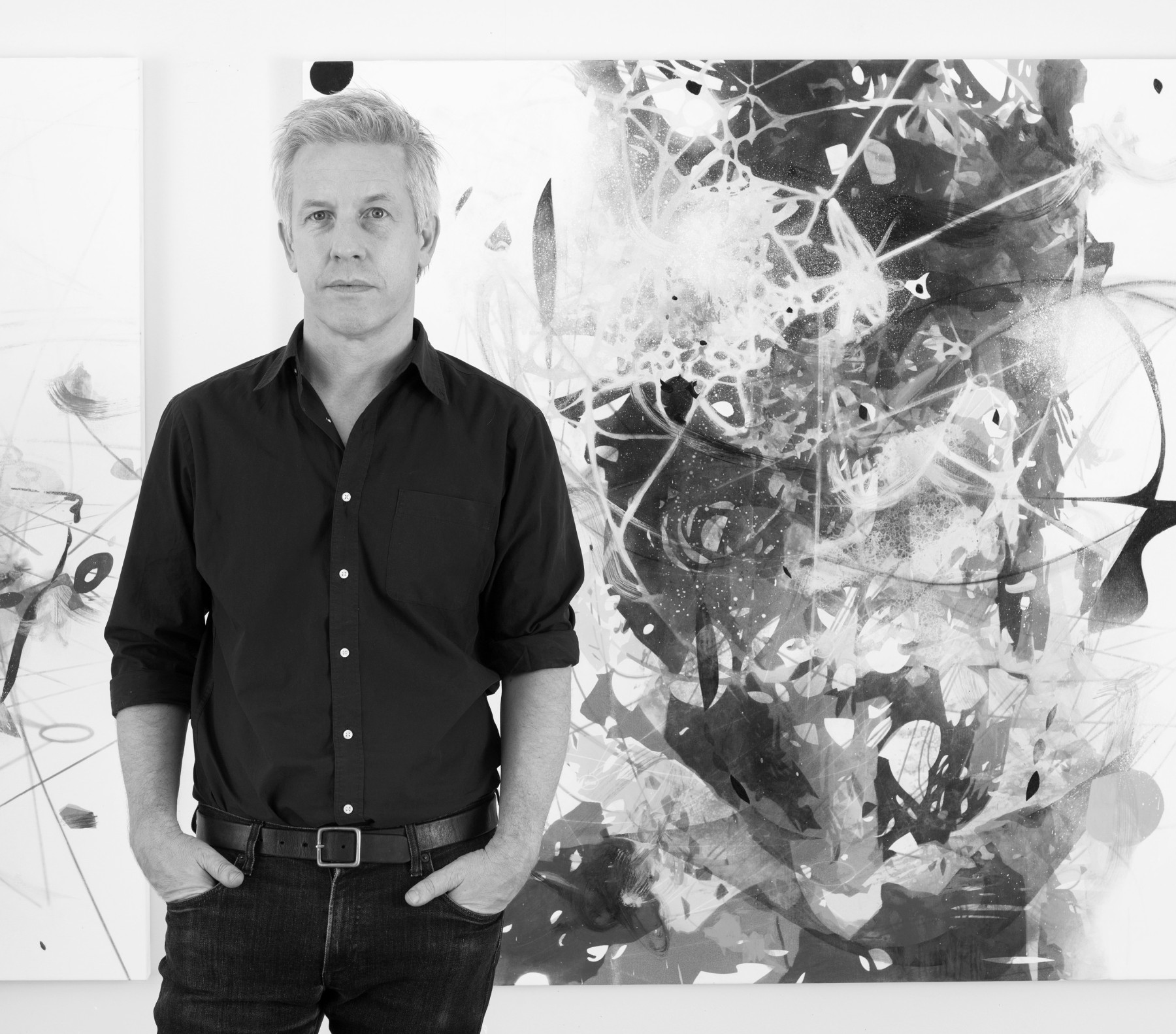 Since the early 1990s, Matthew Ritchie has developed an installation and painting practice drawing from the vocabularies of science, sociology, anthropology, mythology and the history of art. In his paintings, installations, wall drawings, light boxes, sculptures, projections, artists books and performances, Ritchie describes the generation of systems, ideas, and their subsequent interpretations in a kind of cerebral web, concretizing ephemeral and intangible theories of information and time in a unique and recognizable gestural form that emphasizes the human trace.

In 1997, Ritchie began a series of paintings and installations titled The Main Sequence, which aimed to represent visually a theory of everything through a fragmented narrative. Each painting in the series developed as part of an interactive game that attempted to summarize an entire field of knowledge, such as physics and biology, into a multi-layered and immersive story. The central question of The Main Sequence, whether any one person can see and represent the entire universe, evolved into projects and collaborations in film, theater, music, and architecture, working closely with physicists, musicians, architects, engineers, and theorists to explore the possibility of shared systems and aggregations in contexts as diverse as opera, contemporary music, architecture, horticulture, urban design, theology, and science, as well as frequently bridging the analog and digital worlds with interactive projects at ada-web, Eyebeam, SFMoMA and Rhizome.
Ritchie is also committed to ambitious public art projects that can project complex ideas into shared spaces. In Games of Chance and Skill (2002) a permanent installation commissioned by the Massachusetts Institute of Technology, Ritchie's works sprawl across three different surfaces habitually employed by the artist: opaque wall, translucent light panel, and transparent windows. A similar combination of media can be found in his most recent permanent work Everything That Rises Must Converge (2017) at Cornell Tech, which rises in a column of information over four floors. His multi-part installation The Hierarchy Problem (2003) incorporates a black latticework structure, a drawing in space, suspended above a colorful floor piece and flanked by light boxes, paintings and a large wall drawing. The Morning Line (2008) extends this concept of drawing in space to a vast series of tetrahedral architectural elements, which contain a collaborative interactive music and film database, while This Garden At This Hour (2014) integrates environmentally-scaled sculptures and over 10,000 plants to create a taxonomical and molecular garden.

Over the last several years, Ritchie also embarked on a project to chart a comprehensive visual history of the notational mark, or diagram. Divided into three parts, The Temptation of the Diagram, Surrender to the Diagram and The Demon in the Diagram, the ongoing project has thus far manifested in a series of paintings, performances, installations, and a publication that examines the influence on notational language on the systems and production of knowledge. Ritchie's newest body of work, Time Diagrams, an ambitious one-hundred part sequence of paintings, floor, wall and performance works, seeks to examine the structure and informational language of history, in the same way The Main Sequence examined the informational language and structure of space.

Matthew Ritchie (b. 1964) has exhibited internationally over the past two decades, including solo presentations at the Moody Center for the Arts at Rice University, Houston, TX (2018); Institute of Contemporary Art, Boston, MA (2014); ZKM Karlsruhe (2012), Barbican Theatre, London, UK (2012); Brooklyn Academy of Music (2009), NY, St. Louis Art Museum, MO (2007); MASS MoCA, North Adams, MA (2004), Contemporary Art Museum, Houston, TX (2003); and Dallas Museum of Art, TX (2001). He was recently the 2018-19 Dasha Zhukova Distinguished Visiting Artist at MIT Center for Art, Science & Technology. Ritchie's work was included in the 1997 Whitney Biennial, the 2002 Sydney Biennale, the 2004 Bienal de Sao Paulo, the 2008 Seville Bienal, the Havana Bienal, and the 11th International Architecture Biennial, Venice, Italy (2008) as well as major exhibitions at the Solomon R. Guggenheim Museum, New York, NY; Museum of Modern Art, New York, NY and the San Francisco Museum of Modern Art, CA. His work is in the permanent collections of the Museum of Modern Art, New York, NY; Solomon R. Guggenheim Museum, New York, NY; Whitney Museum of American Art, New York, NY; San Francisco Museum of Modern Art, CA; and the MIT List Visual Arts Center, Boston, MA among others. Ritchie lives and works in New York.